Whether you are a Virtual Assistant who is just starting out and needs some rock solid advice "what next?"
Or you already have a VA business but you're feeling really STUCK in your entrepreneurial growth …
Tawnya Sutherland's
MotiVAtor Mentorship Sessions
Will Help You Clear the Clutter and
Take Revenue-Generating ACTION
Your Next Business Breakthrough Could Be Just Around the Corner!
Dear Virtual Assistant or Aspiring VA,
It's easy to see why thousands of women have joined the virtual assistant industry over the past decade. (I was one of the first!) The benefits are hard to resist. You get to choose your own hours. You can work wherever and however you want. The kids get more time with Mom. And hallelujah, you get to dump the cubicle and do things your way!
But there's a harsh reality beneath the shiny veneer of starting your own VA business from home. I've lived it, and you might be living it now.
Virtual Assistance Has Pioneered New Income Streams
for Thousands of Smart, Ambitious Women Just Like You
But There's a "Not-So-Glamorous Side"
That Until Now, Nothing Could Prepare You For
As the founder of THE biggest VA networking site online today (30,000+ members strong), I have an up-close perspective on what's happening the VA industry. Not all of it is good news.

Here's just some of the stuff very few people will tell you about being a VA:
Average revenues in this biz vary wildly, but many very skilled VAs are hard pressed to command (and GET) more than $25 or $30 an hour for their services.* That might sound okay, but after you deduct expenses and the tax man takes a cut, working those long hours seems hard to justify.
There is a LOT of squabbling and strife in the VA industry. Yes, this is also true for many industries, but forming alliances ONLINE with people you can really trust can be tough as a VA. Even tougher if you're a relative newcomer.
A high percentage of VAs (maybe even HALF)* still work at a J-O-B in addition to running their VA business. There goes the flexible lifestyle so many women crave when starting their businesses.
It can take YEARS to build a profitable business that pays you at least as well or better than many career alternatives now available to smart, ambitious women. In that time, some VAs lose steam and burn out, working too many hours for not enough money.
Building and keeping a loyal client base is tougher than ever. And while some VAs thrived through the recession, others were hit hard. Business owners are tightening their budgets, but especially for "outside help" perceived as a luxury, not a necessity to running a strong business.
It's not a pretty picture over on "this side" of the industry. Yet these are the cold truths of what I see every single day as a coach and mentor to VAs from all over the world.
Maybe you're experiencing some of these challenges yourself.
You dream of a day when you can "find your groove" and
be CONFIDENT in your value,
refusing to settle for "doing okay" in her business.
I myself have endured too many trials and tribulations to list here. What I can tell you, though, is that anyone can overcome a business obstacle if they want what's on the other side badly enough.
If you're struggling with your VA business right now, you might find yourself constantly asking these questions:
Will I ever have a FULL roster of clients that I LOVE to work with?
Can I really ask for a HIGHER RATE and GET it?
Why don't the people I love "get" what I'm trying to do?
Is it always going to be THIS hard to make money in my business?
Do I have the skills and experience to make this fly, profitably?
Can I get more clients with my website or social media? How?
Is it possible for a "homebody" to make good money at this?
I can't do this by myself, but where is GOOD HELP I can trust?
I asked myself all of the above questions and more when I started out as a legal and administrative Virtual Assistant over 14 years ago. I was a newly single mom with 3 young children to support. I was in a city where I hardly knew anyone, and I had no idea at any given moment how I was going to pay the rent.
So I took any work I could get because frankly, I didn't have a choice. I worked odd jobs that had nothing at all to do with my dreams of being a successful entrepreneur. I took on all kinds of clients and projects for VERY low rates. I went to night school and paid $1000s to learn about Internet marketing so I could start earning more in my VA business.
And I worked NIGHT AND DAY to make ends meet and build the multiple six-figure businesses you see today. VAnetworking.com is the largest social networking forum of its kind, and Mediamage Business Solutions commands an hourly rate I only DREAMED of asking for just a few years ago.
It wasn't easy and I made so many mistakes along the way.
Now, does this mean you have to stumble through and work yourself to the bone as I did? Do you have to work so many hours a day at the computer that you can't see straight? Do you have to keep taking extra "shifts" at another job just to get by until "things get better in the business?"
No, no and NO!
I can't stand to see smart, hardworking women (and men) like you suffering and struggling in their VA businesses.
Because you really don't have to!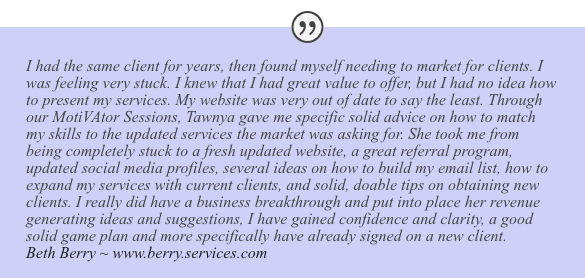 Had I known 14 years ago what
I just started to figure out SEVEN years ago
I'd have grown my businesses twice as quickly.
(And with half the heartache!)
Wouldn't it be great to cut YOUR "learning curve" by half?
Again and again, in my coaching discussions with VAs, I see that the knowledge and wisdom I've acquired over the years is TEACHABLE.  And the challenges inherent in starting a VA business are COACHABLE.
And this is why I've finally created the MotiVAtor Mentorship Sessions where new and experienced Virtual Assistants will work with me, Tawnya Sutherland, 1 on 1.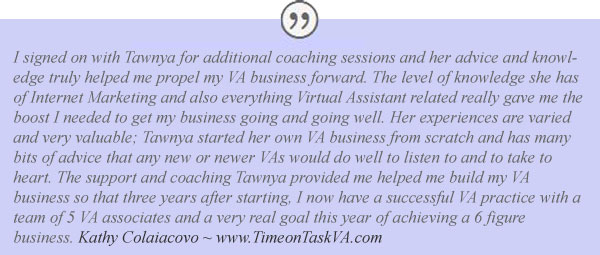 I've designed these intensive, one-on-one coaching sessions to take away the fear and trepidation that is holding you back from the success and financial freedom you're striving for. I will help you LEAP OVER the roadblocks that are stopping you from achieving your dreams of being a highly successful Virtual Assistant.
So that it doesn't take you 10 years to reach your business goals!
I've personally coached 100s of Virtual Assistants over the years. I don't hold anything back with my protégés. I give everything I have and then some. VAs who work with me one-on-one get the full benefit of my skills, experience and PASSION for helping women succeed online in this increasingly competitive industry.
A Decade+ of Skills, Experience and Some Hard Knocks Too.
I'm ready to share my hard-won wisdom with YOU.
Because there is no faster way to business success
than having a devoted, caring mentor at your side.
(I wish I had one of those 14 years ago!)
If I can do it, you can do it. Whatever kind of virtual business you want to create!
You may or may not have dreams of building an "empire." That isn't the point. What matters is that you build something that gives you joy, easily pays the bills … and maybe then some!
How would it feel to finally use your talents
at a higher level and for more money,
Quickly and with expert guidance and support?
Without question, these sessions can be intensive, usually beginning with a "focus session" dedicated to understanding what's going right—and wrong—in your VA business. We will figure out where you are now, and where you want to be (and I'll push you to reach for your dreams!).
From our very first VA Kickoff Focus Session you will:
Start thinking more strategically about your business and marketing.
Feel truly VALIDATED around what's "hurting" in your business.
Get motivated and energized to start taking positive ACTION.
Feel more confident in your unique journey to business success.
Begin setting clear, achievable goals even if you're feeling stuck.
Start to see what's valuable and great about YOU (so you earn more!).
Uncover new revenue opportunities to build your business quickly.
We're going to get you into "growth mode" and put together a plan of action that will sustain and support your long-term personal and financial success as a VA!

Here's What to Expect When We Begin
Mapping Out YOUR Road to Virtual SUCCESS
In the MotiVAtor Sessions:
Each session happens in my private webinar room with desktop sharing so we can dive into the meat of your business and really have a look at your entire business from your website presence to your current marketing strategies.
After your session is over you'll be given a link to the video replay to reference back on in case you need to remember resources or links I shared with you during the webinar.
I will stay in touch with you after your coaching sessions to ensure you're on track with meeting your goals. You'll get one follow-up email to answer those "niggly" questions that keep you awake at night as you work on new projects that will grow your business.
These are the different types of MotiVAtor Mentorship Sessions I offer and you can choose whichever style you like when you book…
VA Kickoff Focus Session – See above paragraph for full details of this session which most take first if they are going to have ongoing sessions for any length of time. The Kickoff Focus Session allows us to zone in on a strategic plan to put into action over a manageable period of time so you can start making some money with your business.
MotiVAtor Leverage Sessions – (Most Popular Session) Here we focus on strengthening what's weak and leveraging those areas that show potential. You may have a "hidden talent" that's waiting to be revealed to the world or perhaps you're feeling unsure about a new offer or business idea. This is a no-holds-barred session where we work out the kinks and keep you motivated to take action again and again! We can discuss anything that you'd like to discuss other ways to add more revenue streams to your current business plan.
Laser MotiVAtor Sessions – These calls are great if you just need a quick boost. They focus on your most important needs, questions or ideas at this time and they are bookable last minute. Great for those moments when you feel you just can't move on without further motivational guidance.
Final Assessment Session – This session will wrap-up what you've learned over the past sessions to prepare you for the business success you have always dreamed about. I'll prepare you for the online business world with resources and suggestions to help you overcome future obstacles and hurdles that may come your way. We'll focus on a plan of action for you over the next 6 months. Only available after 3 sessions above.
I will leverage my business and marketing expertise to provide you with the highest knowledge, resources and recommendations to launch (or RE-launch!) your VA business into higher levels of success and income.
Through these sessions, you will receive objective feedback on your business processes and marketing, your "next big thing" ideas for growth, and HOW to set and achieve bigger and bigger goals—financial or otherwise.
I'll help you put together the missing pieces. I'll answer your questions and will motivate you so that nothing can hold you back, allowing your VA business to thrive and grow.
In the end, my desire is for you to have the VA business that gives you the lifestyle you want.
The best investment you can make in your business is an investment in YOU.

What does these incredible, life-changing MotiVAtor Mentorship sessions cost?
APPLY TODAY…
---
1 Hour Session at $299 (You book the call and Tawnya calls you)
3 One Hour Sessions for $598 (Yep you get 3 for the price of 2. You book the call and Tawnya calls you))
1 Year of 12 Hourly Sessions at $1997 (Save over $1500 buying yearly. You book the call and Tawnya calls you)
---
Bottom Line: Sparking a change in your VA business couldn't be any easier than this, so listen to your intuition and let me motivate you to higher levels of success in your business that you've always wanted today.
Take the first step toward your new life as a highly successful Virtual Assistant!
To Your Virtual $uccess!


Tawnya Sutherland
PS: If you're asking, "But what makes Tawnya the right woman for the job?"
Here are some things I've learned and done along the way that will undoubtedly benefit YOU as you work on achieving new goals and taking action toward those goals in your business:
Certification as an Internet Marketing Specialist ("CIMBS" designation) at University of BC.
Owner of 5 successful businesses in the past 20 years.
15+ years working online with countless clients and VAs from all walks of life.
Launching and growing the largest Virtual Assistant network online, VAnetworking.com. Our membership continues to grow daily.
Launching and growing the popular "VAinsiders Club" membership program for VAs who want to tap a more sophisticated level of business resources that simply cannot be found all in one place for free.
Producer of the Virtual Assistant Career, an unmatched program for getting a VA biz up and running and ready to market within 30 days.
Coaching hundreds of Virtual Assistants both on our forums and in person
If you have any questions at all, I'm here to answer them fully and honestly. No scary sales pitch. No smoke and mirrors. Just 100% "Tawnya." My only goal when you contact me is to help you decide if this is the right program for YOU based on your unique history, skills, experience and desires for your future as a successful Virtual Assistant.
And of course, everything we talk about is strictly confidential.
BOOK a FREE 15 minute consult with me today to see if we will be a fit 😉