Attn: Virtual Assistants, Secretaries, Administrative Assistants & Work at Home Business Entrepreneurs…
"START Your Own PROFITABLE Home-based Virtual Assistant Business, Easily and Quickly from the comforts of your home office .… 100% GUARANTEED!
Become a Virtual Assistant!
(In JUST 30 days even with NO previous
virtual business experience)
This globally proven, acclaimed business startup system and instruction by The VA Expert, Tawnya Sutherland, is designed specifically to get your Virtual Assistant Career started easily, quickly, without the stress of doing it from scratch in just 30 days.
STOP puttering and dabbling around trying to get your Virtual Assistant Career (VAC) started.
I'm going to give you the opportunity to invest just a few hours a day,  in a proven system that will have you up and running in JUST 1 MONTH.
IMAGINE, within 30 days you could:
Have your own professional Virtual Assistant website optimized to rank HIGH in the search engines
Have your entire business/marketing plan FINISHED.
Know exactly what to do to attract targeted clients HUNGRY for your services.
Be "networked" with some of the best VAs in the business.
Have a clearly defined niche that will give you a fierce competitive advantage.
Work from home with NO MORE commutes and stresses of the corporate rat race.
Begin to attract a following of prospective clients through the social networking world.
Have all your promotional materials designed and ready to market your business.
Easily jump on the blogging bandwagon to begin promoting your products, services and expertise.
Have the freedom to take holidays or time-off from your work whenever you like.
Find the much wanted time for you and your family again being your own boss.
Have the confidence AND practical tools necessary to go forward as a profitable, highly sought after professional Virtual Assistant!
HOW DOES THE VAC SYSTEM ACTUALLY WORK?
The Virtual Assistant Career (VAC) training is a step-by-step system that provides valuable sound advice and practical guidance for starting your own successful Virtual Assistant Career.
I've poured my heart and soul into this program to provide you with everything you will need in one easy program that will become an everyday business reference resource for your VA Career.
Everything I have created over the years is from actual business templates I use every day in my own business. The factual knowledge and resources about starting and running a virtual assistant business that I share with Virtual Assistants worldwide at my speaking engagements are part of what you get with The VAC Training. I've detailed all the contents of the VAC training here for you in full to review at your leisure.
No matter what stage you are at in your Virtual Assistant Career right now, this system will help you:
Setup the operations of your Virtual Assistant Career easily and with confidence.
Write a business plan from scratch that will help you reach your business goals.
Show your potential clients everything you can do for them.
Establish yourself as a GURU in your field, so you will attract new and better-qualified clients.
Find your own service niche in the Virtual Assistant industry and hone into your target market.
Learn which VA organization appeals to you most and why you should join it.
Keep your name at the top of your prospects' and clients' minds and help you to sell more of your services, both online and off.
Build a loyal base of prospective clients who are ready to hire you and keep retaining your services month after month.
Effortlessly spread the word about your business via "e-marketing."
Save thousands of dollars by developing your own marketing kit, from logos and brochures, to tradeshow presentations and press releases for tons of additional exposure which mean traffic directed towards your business.
Capture the Internet market by developing a business website online to create new revenue streams online.
Work with contracts that will ensure you are organized and productive!
Develop a procedural manual in the event you get sick or just want to take a holiday, and know that your business will run smoothly while you're away.
Learn how to gain loyal clients through social networks like Twitter, FaceBook and Linkedin.
Enjoy all the privileges of being a small business owner.
Work from home and manage your family life at the same time.
AND much more … too many to list!
Be assured that the most efficient and effective way to be on the road to success with your new Virtual Assistant Career is to have all the tools you need at your fingertips. AND, I have that complete VA Career start-up system just waiting for you! It's called The Virtual Assistant Career Training or VAC.
Not only will it keep you well-organized and motivated, but you will also have the best and most comprehensive VA toolbox available online today to build, maintain, and grow your business in just 30 days. IN ADDITION, you will have a Veteran Virtual Assistant to help guide you and keep you on a straight and narrow path to success, and away from the rocky waters and mud holes of failure!
"Eighty percent of success is showing up". ~ Woody Allen
Like Woody Allen says, showing up is 80% of what it takes to be successful. So now that you are here, let's get moving on your successful journey together.
You may be asking yourself, "WHY would Tawnya offer up all her virtual business trade secrets up in one simple system that is delivered to you digitally?"
Here is my story…When I decided to launch my own virtual assistant business in 1997 I had no idea where to start. All I knew was that I wanted to put my administrative and corporate skills to work in some way that would benefit me! In fact, I didn't even know the term "Virtual Assistant" existed!
It was a tough and long struggle teaching myself how to run an administrative business from my home, from the ground up, with no previous business startup experience, nor anyone to help me through the process. Being a newly single mother of 3 young children who just went through a stressful separation didn't make it any easier.
I knew, in my heart, that I had to persevere through this new journey and not give up. This new business would allow me to stay home with my children, and provide for them financially, which was my ultimate dream.
Sheer stubbornness and a passion to succeed helped me through the ups and downs of achieving the freedoms I desired in life, which I knew would come from being a prosperous business owner.
What I found throughout my journey was huge disappointment time and time again. The lack of information on Virtual Assisting as a business opportunity was disheartening. The sources I could find on this new career via the Internet, library or educational resources were few and far between.
Over the years, I joined a few VA organizations online as the term "Virtual Assistant" became more popular, learning as much as I could about living the life of a "VA". I purchased start-up business books enrolled in online courses, and went back to University.
I even started up my own Virtual Assistant Social Networking Forum to not only have a place to network with others in the same industry, but to share my knowledge with others so they could have an easier go at getting their business off the ground than I did.
I LOVED sharing my VA experiences with other Virtual Assistants in the VA Networking Forum looking forward to each new question they asked. Time and time again, people would ask the same question over and over again:
"How does one start up a Virtual Assistant Career?"
After countless inquiries at my VAnetworking.com Forum, plus after coaching hundreds of new Virtual Assistants in starting up their own VA business, I decided it was time to write my own Virtual Assistant Career Training for professionals like YOU.
This system is designed to give you a clear and exact road map to success that details everything you need to know about starting up a Virtual Assistant business. When I tell you it's massive, I'm not joking.
When I say that I am offering a system that gives you a clear path to success, that's what I'm offering — GUARANTEED — with The VAC Training System!
But that's not all, here's what else you'll get…
I'll Guide YOU Virtually Through the Entire Business Start-up in JUST 30 days …
Many new entrepreneurs like yourself shudder at the mass of overwhelming steps that must be waded through in order to get started.
For some, it's the fact that without a step-by-step guide you just end up procrastinating when you get to a major road block.
For others, you are likely just looking for the right road map to your own success as a Virtual Assistant.
Well, no worries, because I am going to personally help direct you on all the specifics on how to start up your own Virtual Assistant Career, step by step, day by day.
Due to the years of effort I've put into my own business, I have gained mountains of information and garnered tens of thousands of dollars in new business each year from applying this information to my business.
It took me years of research and work to build my business to where it is today, giving me a high six figure income! For you it will not take years, but just 30 days to start benefiting from the knowledge that took me many years to acquire.
As you can see below, I not only guarantee you'll love VAC, but I guarantee my system will work for you by easily showing you how to set up a Virtual Assistant Career in just 30 days! The Virtual Assistant Career Training System is a system that covers everything, from A to Z, in starting up a Virtual Assistant Career, together with all the tools to make it happen.
HERE'S WHAT YOU GET:
#1: The "VAC" 30 Day Module Online Training Center (Valued at $997)
CLICK HERE to gain FREE access to DAY 2's module to see what it's like inside our member training area first hand!
The VAC 30 Day Module Online Training Center will help your business grow each and every day. The online modules are set up for your 30-day journey that will steer you to your dream:

Your own Virtual Assistant business.

By devoting a modest portion of your day to each module, you will channel your passion for virtual assistance to launch a fully operational VA business. Simple and manageable steps in 30 comprehensive online modules will soon help you transform a hazy vision into a vivid reality. Keep your binoculars handy throughout this 30-day voyage. Pull them out each day to keep an image of your goal in close proximity. Enclosed in this Virtual Assistant Career (VAC) online training center are the tools you will need to stretch that arm a little further and touch that oh-so-vivid vision.

It will become a business resource that you will refer to time and time again. It is brimming full of valuable VA information written by a Certified Internet Marketing Business Strategist, Tawnya Sutherland, Founder of VAnetworking.com and President of Mediamage Business Solutions. An established and successful business woman, Tawnya has the work experience and know-hows of running a successful and prosperous VA business. She shares all of her trade secrets of running a successful Virtual Assistant business within her VAC system.

If you are a person who disfavors lengthy reading and writing – be rest assured – this entire online training center was designed with simplicity and practicality in mind! Written with an easy balance between short reading passages, writing exercises, and helpful tips, templates and checklists that will keep you both visually and intellectually stimulated on your journey to entrepreneurship. Tawnya motivates you to keep going every step of the way to finish.

The VAC online training center is designed in a fun, easy to use online format for you to get your Virtual Assistant business up and running quickly, yet thoroughly. Each day is filled with step by step instructions for you to work through and sign-off on. Yes, I said "Each day" meaning that in 30 days, YOUR Virtual Assistant business can be up and running! And that's just a glimpse!
#2: VAC Resources (Valued at $397)
Inside our VAult there are 100's of business templates, e-books, tutorials, charts, articles, and even Virtual Assistant business contracts sprinkled throughout this online training center that are necessary to operate a Virtual Assistant business and help you succeed quicker.I have been designing templates for use in my business for over 15 years and I am now ready to share them ALL with you!Not to mention I've included bonus training on topics like watching a video or listening to a podcast that we've hosted in the past from our VAinsider VAult.

CLICK HERE to gain FREE access to DAY 2's module to see what it's like inside our member training area first hand!
BUT that's not all …
#3: These 4 Reference eBooks (Valued at over $150)
Not only will you receive access to the online VAC Training Center listed above but I've also included 4 informational Virtual Assistant ebooks from well-known Virtual Assistants that are referenced throughout the VAC training center as additional reading to further the success of your VA business start-up!
How To Build a Successful Virtual Assistant Business
Written by Janice Byer and Elayne Whitfield-Parr, this NEW ebook includes information and tips to help aspiring and established VAs throughout the world with every aspect of starting and building a Virtual Assistant business. International Version
The Virtual Assistant's Guide to Marketing – 2nd Edition
This VA marketing ebook has been written by a professional VA, Michelle Jamison, for VAs. Whether you are an aspiring VA who is just starting your journey into the virtual world, or are a seasoned VA looking for innovative ways to move your practice forward to the next level; this book will be of benefit to you.
 
 The Virtual Assistant's Guide to The Multi-VA Business by Michelle Jamison
Are you turning away clients because your Virtual Assistant business is full? Here's how having your own multi-VA business can earn you more money, enhance your entrepreneurial skills in many positive ways and ensure that your business becomes a one-stop shop for all your clients' needs.
 One-a-day VA by Tawnya Sutherland
Here's a handy ebook full of 365 ways to utilize the services of a Virtual Assistant to help give you ideas to help your clients find success.Or just take one tip per day with your morning coffee and allow its outsourcing benefits to settle into your own virtual business throughout the day.Included is a year's worth of quick tips of how you can utilize the services of a Virtual Assistant in your business.
#4: A Virtual Assistant Website/Blog (Valued at $700+)
You heard me right…A website to market your VA business! No excuses now, everything you need to help you get your website up and running in no time flat.

A custom designed wordpress.org basic website/blog combo. Just let us know what your favorite colors are, send us your logo and tagline and we'll design and install this simple to use content management website just for you.

You'll finally have that website you've always dreamed of having ready to sell your services online!
This Website / Blog Package includes:
1 FREE domain name registration. Valued at $25
1 FREE year of free website hosting (100MB disk space, 1000MB bandwidth, 5 POP email accounts) and Install of WordPress  Valued at $197
A Premium Responsive (Mobile) Theme with free theme updates for one year. Valued at $497

Branded with Your Colours and Logo (you provide)
5 Blank Pages (Home Page, About Page, Services Page, Resources Page, Contact Page with Contact Form) ready for you to add your content
Blog set up ready for your first blog post
Add your Social Media Network Follow Icons and add social sharing icons (you provide links to your social networks)
Access to Basic WordPress Training Course
It's a website designed for you to get you online right away! (Must be used within one year from date of purchase)
#5: Lifetime VAC Startup Forum Access (Value $497)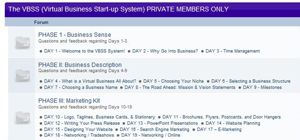 VAC owners get exclusive private access to a specifically created forum designed to motivate and encourage Virtual Assistants just starting out. Ask a question and within hours you'll see your question resolved for you.
You'll get to network with others who are starting out just like you. Share, connect and learn from each other.
No more will you have to feel embarrassed asking a question because you are a newbie. Only other VAC members just like you have access to this private Q & A forum area, and they've all been just where you're at right now.
Receive instant access to Tawnya Sutherland's marketing knowledge through the VAC area for every chapter in the system.
This exclusive private forum area for VAC owners contains a wealth of information on starting up and running a successful Virtual Assistant business.
#6: Recognition to Become VAcertified (Value priceless)
Tawnya Sutherland is founder of VAcertified.com, the go-to resource for Virtual Assistants who want credible, unbiased and international recognition for their skills, education, professional experience and industry contributions.
Upon completing the VAC system and showing validated work experience in the VA industry, Tawnya will give you a personal introduction to the VAcertified Board for certification and mentor you towards certification. These are the very people who recognize and certify VA for the VAcertified program.
When you have the VAcertified seal on your website and other key marketing materials, any client from any country will have reason to trust in your ability to be the RIGHT Virtual Assistant to partner with.
Bewildered yet?
You should be, all of this information is just a sampling of everything you will get from ordering your VAC Start-up System.
The VAC information alone, for example, is a veritable treasure trove in itself. Add to that all of the business templates packed into the online training center, and many the reference ebooks included in your system, and you are more than ready to get on the road to your successful VA Career.
But wait, that is still not all!
I want to make SURE you succeed in your Virtual Assistant business venture so I am going to throw in some more goodies!
These bonus goodies that I've added to this system are the inside keys to success and no business should be without them.
Everyone always throws in bonuses so here are yours:
BONUS #1: Tawnya's Virtual Assistant Business Plan (Value $300+)
| | |
| --- | --- |
| | If you order now, for a limited time only, I am including my very own 35 page completed business plan together with 2 years of financials in Microsoft Word/Excel from my own successful Virtual Assistant business, Mediamage Business Solutions.  Use the wording in my business plan to create your own Virtual Assistant business plan. Simply substitute my personal information, geographical statistics, service list and whatever else you wish to change to end up with a business plan that fits around YOU. Voila, your own Virtual Assistant business plan. |
Ok, here's where it gets even better…
Bonus #2: One Year VAinsider Club Supercharge Membership (Value $333)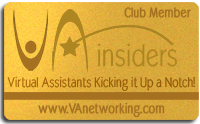 Sutherland's VAnetworking group boasts thousands of worldwide members and is home to the increasingly popular, VAinsider Club. Within this exclusive club, Virtual Assistants access top notch advice and support from Tawnya and her exclusive global team of business experts. You'll have access to many resources including:
Our popular job board with new jobs coming through every day!
Monthly Webinar Training
Monthly MotiVAtor
Monthly Strategic VA Group Coaching
500+ Hours of Training Videos
145+ System Sheets
100+ Business Templates & Contracts
70+ Business Training eBooks
Mastermind discussions
Valuable marketing tools
Special discounts and promotions
Plus more…check out the VAinsider Club for all the details.
With hundreds of members to date, VAinsiders is the fastest growing club of its kind for VAs looking put their business on the fast track and kick things up a notch!
Oh but wait, there are more goodies for you …
Bonus #3: VA Coaching Session With Tawnya (Valued at $299)

Tawnya Sutherland
The VA Expert
You will receive a gift certificate for one private coaching hour with me, a Certified Internet Marketing Business Strategist via, chatroom, email or telephone (North American calls only unless you call me) or face-to-face if you live in the lower mainland of Vancouver, British Columbia, Canada, to help assist you in the start-up of your Virtual Assistant business.I am a Certified Virtual Assistant plus a Certified Internet Marketing Specialist and Business Strategist. I have assisted 100's of corporate administrative workers and mentored various business people who are in career transitions working towards self-employment. I also work directly with Virtual Assistants to improve the performance of their marketing and business plans helping them to achieve their virtual business goals.
Yes, still more …
Bonus #4: Exclusive discounts from Premier Partners (Value priceless)
Discount Coupons / Special Offers from our many Premier Partners from training organizations to products.
50% Lifetime discount to VAinsiders.com
Plus many more discounts including but not limited to above
BONUS #5 FOR A LIMITED TIME ONLY…You ALSO get these VIP Bonuses..

.
(Value $150+)
5 eBooks from written by some of the best Virtual Assistant leaders in the industry today!
Tina Forsyth – Online Business Manager
Cindy Greenway – Virtually Successful
Karri Flatla – Alpha WAHM Blueprint
Alyssa Gregory – VA Secrets Revealed
VAnetworking's Partnering With a VA 
Okay, now for MY personal guarantee I've been promising …
The Best Virtual Assistant Career Start Up System Ever Put Together — Or Your Money Back!

How's that? It's that simple!

I'm 100% positively secure in saying that VAC will be the best Virtual Assistant Career startup system you've ever come across. If you follow the day to day steps I've included in this system, you will be headed towards having your very own Virtual Assistant business up and running in no time.

Read Full Refund Policies
In fact, try it for 15 days and if you don't feel you've gained anything out of it to put towards your virtual assistant business, I will pay you your MONEY BACK!
It really is simple:
I am giving you 15 days to try The VAC out and if you don't like it for whatever reason, I personally feel you should get a refund! Once again: if all the tips, templates and resources in this system do not produce the results you were looking for, you may return our VAC within 15 days.
This is my personal guarantee and I stand fully behind it. Know why? Because if this system worked for me, it will work for anyone, I just know it!
Okay Tawnya, so how much is this Business Start-up System gonna cost ME?
What if I told you it would cost you less than a week's wages of what you would charge when your Virtual Assistant business is up and running? That's right, less than one week of your time! I will explain in a moment.
First, to be successful in any business you have to "go that extra mile" … that is, give your clients much more than they anticipated on ever receiving. This leads to repeat business from satisfied clients. I do this for all my clients, just ask them. I want you to be as happy as my clients are.
So even though the VAC Training System alone is valued at well over $3,800, I've priced this invaluable system of resources to get you that Virtual Assistant Career you have only dreamed about for only $997.00.
Now back to what I was saying about it costing you less than one week of your time… I know VAC will save you not only days, but weeks' worth of your time. Not having to design all those templates alone will save you valuable time, not to mention the weeks of research and writing that can go into a proper business plan.  All of this is already all done for you with VAC!
So let's do the math, 29 hours (that's not even a 40 hour work week!) X $35 (average hourly cost of a Virtual Assistant) = $1015.00.
LESS THAN 1 WEEK'S WORTH OF YOUR TIME!
There is no way in this world you could design over 125 business templates and get your website online, simply and quickly in under a week. That time-saving value alone is worth the price of this system!
And don't forget … this business system you are investing in is 100% tax deductible since you will be using it to help your business become a success. So you really can't lose here.
So, There Is My Offer, What Are YOU Waiting For?
I'm ready to start up my 
Virtual Assistant business using YOUR globally proven VAC System.
I will receive all 6 parts above together with my 5 extra bonuses!
I understand the "VAC Virtual Business Start-up System" comes with a full, 15-day money back guarantee, and I can receive a full refund as stated above anytime during this period if I am not completely satisfied.
We accept all major credit cards:
Our website ensures online payments are safe and secure. You'll never have to worry ordering from me as you'll always see a padlock or key symbol in your browser upon ordering any products from my company, Virtual Business Solutions, as my shopping cart payment system is guaranteed to be safe, secure, trusted and encrypted.
Still don't want to order online?
ORDER BY PHONE TOLL FREE:
During business hours (PST) 1-800-642-6313
Take Advantage of my Personal 100% Satisfaction Guarantee …
Look It Over And Then Decide If You Want To Keep It.
Don't forget my 100% guarantee.
So try it first, if you are not happy with your purchase of your VAC System, just ask for your money back within 15 days from the date of purchase.
Upon ordering via my secure server, you will secure your VAC membership (watch your email for login details) of your VAC and the link to download immediately your Bonus #1, my completed virtual assistant business plan.
So what are you waiting for?
Still not sure? Read testimonials from successful VAC business owners
ORDER NOW. Your VAC and FREE goodies are just a click away!
P.S. Don't forget about my personal 100% satisfaction guarantee. Try it and if you don't like it, send it back to me! You NOW have positively no risk so why not pick up your VAC system to success at this unbelievable price today! ORDER NOW.
P.P.S. Still have questions or thoughts? Want to learn more about your risk-free guarantee? Call me Toll FREE at 800-642-6313. It would be my pleasure to answer any questions you may have.
Here's to YOUR $uccess,

Tawnya Sutherland
The VA EXPERT
"Your Virtual Assistant MotiVAtor"