Have you recently been laid off from your job in the corporate world?
Are you looking for a way to profitably stay home with your children?
Would you like to make a second income from the comfort of your home?
Or maybe you just need to jumpstart your current virtual assistant business?
If you said YES to any of the above, let me show you how to (kick) start your own profitable home-based Virtual Assistant business quickly and easily.
STOP puttering and dabbling around trying to get your Virtual Assistant business up and running! Instead, I'm going to give you the opportunity to invest just a few hours a day in a proven system that will have you up and running in JUST 1 MONTH.
IMAGINE, within 30 days you could:
Have your own professional Virtual Assistant website optimized to rank HIGH in the search engines
Have your entire business/marketing plan FINISHED.
Know exactly what to do to attract targeted clients HUNGRY for your services.
Be "networked" with some of the best VAs in the business.
Have a clearly defined niche that will give you a fierce competitive advantage.
Work from home with NO MORE commutes and stresses of the corporate rat race.
Begin to attract a following of prospective clients through the social networking world.
Have all your promotional materials designed and ready to market your business.
Easily jump on the blogging bandwagon to being promoting your products, services and expertise.
Have the freedom to take holidays or time-off from your work whenever you like.
Find the much wanted time for you and your family again being your own boss.
Have the confidence AND practical tools necessary to go forward as a profitable, highly sought after professional Virtual Assistant!
Sounds unbelievable doesn't it? WELL, it's not and I'm ready to help you along the way offering you not just valuable sound advice but the motivational power to achieve success in your new business.
Hi, for those that don't already know me, I'm Tawnya Sutherland, a well-known and successful veteran Virtual Assistant since 1997. I'm the founder of the largest social network for Virtual Assistants online today (with over 17,000 registered members at VAnetworking.com). I'm also a Certified Internet Marketing Business Strategist who has helped online businesses turn their clicks into cash since 2000. I've coached and motivated 100's of VAs get their businesses up and running sustaining their online presence.
And, my Virtual Business Start Up System (VBSS) makes it even easier to get started online. It gives you a guided step by step process eliminating the road blocks that come from not knowing how or where to begin.
I'm not going to go into all the fine details as you can read all about it here:
http://www.virtualassistantinabox.com
Oh, and while you're there, download my F.R.E.E. VA Startup Checklist to get your virtual business up and rolling as a gift from me to you.
Now you may be asking yourself, why am I emailing you today? Well, I'm testing out a few new Virtual Assistant books to possibly add to my VBSS. And I thought, what better way to find out what the public likes by letting them read these ebooks and then send me their feedback on which ones they loved most.
So, I put together a Special VBSS VIP package just for you…
LIMITED TIME OFFER: (expires July 12, 2010)  Anyone who orders my VBSS will receive a Special VBSS VIP package from me which includes ebooks from these expert authors in the Virtual Assistant industry:

Tina Forsyth – Online Business Manager eBook
Cindy Greenway – Virtually Successful eBook
Karri Flatla – Alpha WAHM Blueprint eBook
Alyssa Gregory – VA Secrets Revealed eBook
Elayne Whitfield & Janet Byer – How To Build Successful VA Business Intl eBook
PLUS: You'll receive a 3 month Get Featured Membership at my new site Shelancers.com that premiers this month. Within that membership you'll receive 12 Special Reports/eBooks, our Expert Audio Series, other resources/discounts AND a Get Featured Listing in our Shelancers Directory where clients will find you at the top of the list!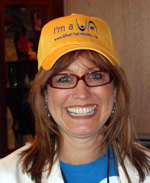 PLUS PLUS: You'll receive VAgear which is exclusive to our Virtual Assistant social network at VAnetworking.com
An official "I'm a VA" golden hat exclusive to our social network

An official VAnetworking Sunglass Holder
That's over $300 in product on top of what you already get in the VBSS but ONLY if you order before July 12, 2010.
ORDER NOW: http://www.virtualassistantinabox.com
AND don't forget about my personal 100% satisfaction guarantee. Try it and if you don't like it, send it back to me! You NOW have positively no risk whatsoever so why not pick up your VBSS system to success at this unbelievable price today! So,  if you order now, you'll receive over $300 in bonus product!What are you waiting for?
To Your Virtual Success,
Tawnya Sutherland
PS: Watch my video presentation here on How to Become a Virtual Assistant

PPS: Pop by my website to download your FREE 48-page sampler of my Virtual Business Start UP System (VBSS) to see for yourself. Then, take advantage of the 100% satisfaction guarantee and order your VBSS today at http://www.virtualassistantinabox.com